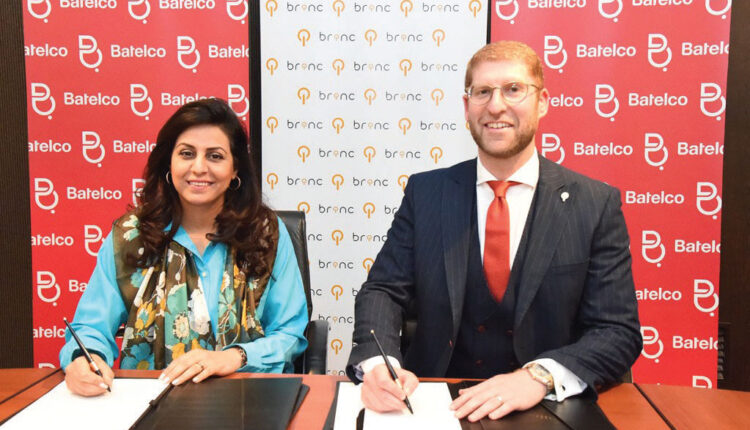 Batelco Teams Up With Brinc to Support the Growth of Tech-Driven Entrepreneurs **First Technology Hardware Accelerator Launched in the Middle East Region**
Cairo, Egypt: Batelco, the Kingdom of Bahrain's leading digital solutions provider, has teamed up with Brinc, an ultra-hands-on Internet of Things (IoT) hardware accelerator, to launch its new operation in the Middle East, the Brinc-Batelco IOT Hub. Brinc MENA's Middle East operation will be located in the Kingdom of Bahrain and will offer programmes and services tailored for IoT hardware start-ups and entrepreneurs looking for speed, access and the know-how to build successful companies. The deal to establish the Brinc-Batelco IOT Hub was formalised during a signing ceremony held at Batelco's headquarters recently, with Batelco Bahrain CEO Eng. Muna Al Hashemi and Brinc Chief Development Officer and head of Brinc MENA, Yasin Aboudaoud signing the agreement. "This partnership is in line with Batelco Bahrain's strategy of driving innovation and supporting the growth of the economy, especially in the telecommunications and technology sector," said Eng. Al Hashemi. "It is important that the Kingdom of Bahrain builds a solid foundation for entrepreneurship providing the necessary expertise, knowledge and attitude to pursue new ideas. The Kingdom was ranked 28th among most networked nations in the world according to the 2016 WEF Networked Readiness Index and 70 percent of the ICT sector talent pool are nationals. Bahrain has the highest ICT development in the region as per the Global
ICT Development Index ITU, which means that Bahrain offers an ideal testing ground for new technologies and ideas," she added. Further commenting on this partnership, Batelco Bahrain Chief Marketing Officer, Mike Stanford said: "Bahrain has a very strong pool of local talent that requires the opportunity to develop, grow and deliver innovative hardware based on the requirements of today's global technology marketplace."
"We look forward to building on this partnership, which will be a birthing ground not only for local talent, but talent from across the Middle East who are yearning to revolutionize the industry by building innovative IoT hardware products for the global consumer market," he added.
Brinc MENA is planning to provide an unprecedented opportunity for start-ups in the region to access mentorship, product design and development guidance, manufacturing and exposure to regional and global investors and markets, all in one programme. On-site business, manufacturing and distribution experience will also be offered.
"Brinc is thrilled to start its setup in the Kingdom of Bahrain which has demonstrated its commitment to developing a world-class environment where technology entrepreneurs can thrive and further develop the country as a regional centre of excellence," said Mr. Aboudaoud.
"By joining forces with an innovative solution provider like Batelco, our goal is to eventually extend our offering of comprehensive programmes and services tailored for hardware start-ups as well as expertise and know-how of manufacturing in China to the growing numbers of hardware founders in the Middle East. By providing start-ups with access to prototyping resources typically only available in Asia, we aim to harvest regional talent and showcase the ability to connect technology growth with product development and manufacturing in China," he added.
To date, Brinc has supported 100's of founders from around the world and invested in and supported more than 30 start-ups, with a portfolio that raised more than $18M USD in follow along funding and has products shipping in 100's of stores around the world.
BRINC MENA at the Brinc-Batelco IOT Hub will be launched towards Q3 2017 and will be located in the Batelco Commercial Centre building in the heart of Manama – a growing technology innovation Hub. Captions: Batelco Bahrain CEO Eng. Muna Al Hashemi and Brinc Chief Development Officer and Head of Brinc MENA, Yasin Aboudaoud sign the agreement.