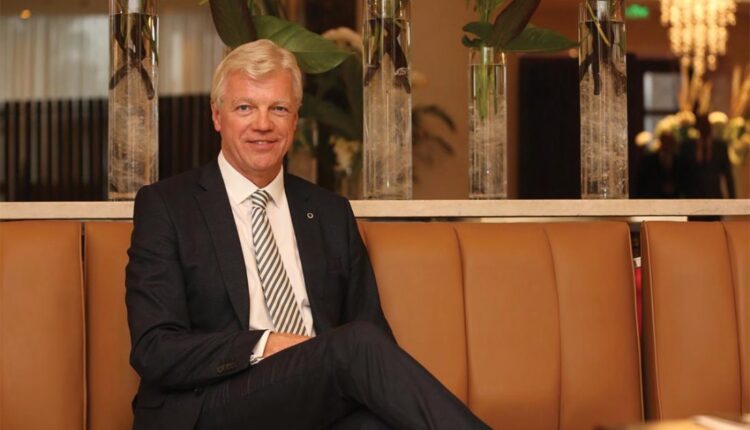 Thomas Willms – CEO Steigenberger Hotels AG
Business Interview
We are hosting a hospitality icon, expert and lover for this issue. We had a great opportunity to meet the expert and the Chief Operating Officer of Steigenberger Hotels AG, Mr. Thomas Willms.
A man who spent his whole life in hospitality industry and hotels. He called himself a hotel child. His first passion has been and will always be the hotel industry. Get to know all about his career, achievements, and tips on how to build a successful hotel and to maintain this success.
Your list of career achievements, what motivated you to go into the hotel industry and what do you personally see as your greatest achievement?
I was born in hotel industry, you can say I am a hotel child, my father & mother had a small hotel North Coast of Germany, my grandparents, both sides, owned hotel too. My children are in the same business and I met my wife through hospitality business. Nothing I like more than hospitality and never done anything else and never regret it as it is my life.
I can see an impressive career development from Senior VP with Starwood to CEO of Steigenberger hotels, how did your previous past experience affect your recent one?
I have been with Starwood for more than 25 years and then I had my nice move to the German chain, Steigenberger hotels. It has been always my favorite brand. The 90 years old brand, since 1930, has an amazing history with lots of pride in that brand, so when the opportunity came to be the CEO of the company I was interested and since then we've grown the brand, created new brands and doubling the number of hotels. It has been great honor working with Steigenberger as it's the most well-known brand in Germany, German speaking countries and all of Europe.
How many Steigenberger hotel in Egypt?
12 hotels, 3 Nile Cruise Ships & 5 hotels in the pipeline. Today we are opening Steigenberger Pyramids which is number 12 in Egypt in addition to 3 Nile cruise ships and that makes it 15 units operating. 3 Cruise ships are in the pipeline to be branded very soon. Egypt for us is the most important international market outside Europe.
What have been the most important lessons you can teach about the hospitality business, during the past 20 years that affect the success of a hotel?
Hospitality is one of the oldest surviving industries and that is because people are always curious and want to travel and meet for business or pleasure. If we look at the Chinese and Indian markets, it is about 1.3 billion which makes Chinese travelers more than Americans and which is very unusual. It is a people business, people as guests and people as employees. It's all about great people with hospitality passionate behavior, people are our great assets. People have fun through working in hospitality. They serve other people with passion. We train our people and encourage them to grow with us by giving them the opportunity to travel to other countries for work and know different cultures and languages and that is the beauty of our business.
What is the company strategy for hiring and dealing with its employees that positively affects guest serving?
We believe in our employees either front or back line, the back line is as important as the front one, Waiters can't work without chefs, receptionists need the housekeeping and so on, it's all about team work. I was trained as a professional waiter, and started from the scratch; I did every possible job in the last 42 years of my career. By now, I know every single job task and how important is every piece in this chain and that the team is the star of this career.
How your F&B background affected your success in hospitality field?
F&B teaches most of the emotions, it's part of every one's daily routine, what we really care about is how to please our guests, especially that every guest for sure eats good food at home or anywhere, so we a wonder how to impress him more at the hotel and you want to make sure that standards are always maintained. In F& B you want to please the guest through his senses of seeing a good food presentation, smelling and testing great food, drinking fine wines and all should be part of a great experience.
I can see that Steigenberger Pyramids can target more than one market either leisure, thanks to its view and business, by being near to Smart Village and the Industrial zone, and local according to the facilities presented, which of the three is the most important target market?
The beauty about Steigenberger Pyramids is that it serves many segments. It is not a typical resort like the ones in Hurgada and Sharm but still welcomes clients coming for leisure thanks to the Pyramids just in front of the hotel and the Grand Egyptian Museum opening in one year time. It is also a business destination with new airport opening soon and the city is not far away. Therefore, it is a business leisure hotel and would say a city resort.
Our magazine is called Dear Guest, the main asset in any industry, what Steigenberger Pyramids is offering its Dear Guests to encourage them to come to it or, in other words, what a hotel should do to be considered by guests?
A hotel is always a combination of many factors such as location and facilities but service is the most important one. Guest may come the first time for the location and because the hotel is close to business or leisure facilities but to "WOW" the guest and make him rejoin, we have to maintain a high level of service. We spend lots of time and efforts training our stuff to present that kind of service. What a guest always remember is the first and last impression. Service and people are the ones who is creating the branded experience, which is the key of success. Although it is not always possible to offer identical service all around the world as you cannot copy hotels, still it is more than important that guest have the same Steigenberger experience in any of our hotels. Whether you are in Frankfort, Berlin, Bangkok, Dubai or Egypt when you close your eyes and open it in the lobby guest should feel it is Steigenberger from the scent, music and uniforms. The quality of services offered should positively remind guest about the brand.
What significant changes have you noticed in the hospitality industry over the past ten to twenty years and where do you see the industry heading, particularly, in Egypt?
Egypt has many advantages, some countries have only beaches, some have only historical places and some have only cities but Egypt has them all. It has 4600 years of history; it is just 4 hours away for Europeans to come and enjoy the nice weather and do shopping. There are some critical issues but not only in Egypt, it is in Europe and America as well. The industry has seen great times over the past 10 years and Egypt is doing its best to maintain the maximum-security measures to continue. Egypt is doing a wonderful job in destination marketing through the ITB and all trade fairs; and with the new Minister of Tourism, we are on the right track concerning hospitality. We are proud that our Shareholder and investor is coming from Egypt and we are always keen to make him proud of us as a management company and that's why we always focus on Egypt and have many hotels here.
Do you personally – as a foreigner – love Egypt?
My family and I are fans of Egypt, we have been coming to Egypt since 1989, we went on Nile cruises in Luxor and Aswan, and we travelled to Sharm El Sheikh and Hurghada. Right now, my daughter and grandson are in Makadi Bay, so the second and third generation are fans of Egypt as well.
What's next? Are you planning new expansions in Egypt?
We are opening soon new hotels in Taba, Luxor and El Lessan at Ras El Bar.
It was really our pleasure having you as our dear guest for this issue.
Well, the pleasure was mine.