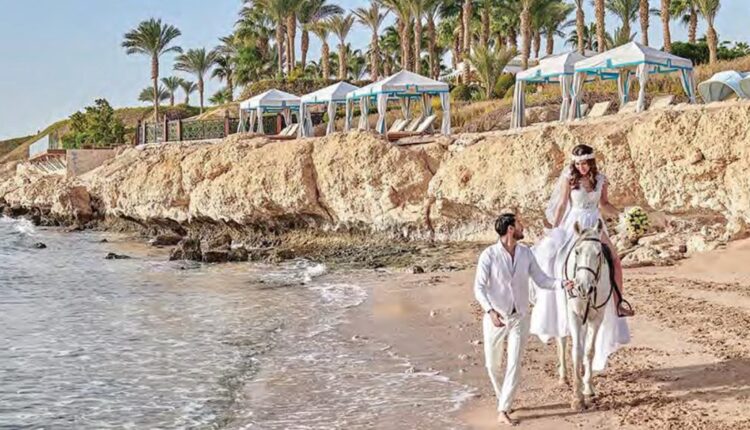 The most picture-perfect venue for an extraordinary wedding
Chit Chat
With its prime location on the Red Sea Riviera and an unrivalled selection of splendid spaces, Four Seasons Resort Sharm El Sheikh makes for a dazzling wedding venue. With flawless event coordination from its dedicated and enthusiastic team of experts, deliciously creative cuisine and personalized attention to detail, what better choice could there be for a truly unforgettable wedding at this rare desert-and-sea resort. Imagine the twinkling lights lit up Four Seasons Resort Sharm El Sheikh palm trees as couples exchanged vows at this stunning resort.
Weddings at Four Seasons Resort Sharm El Sheikh are as unique as they are beautiful and memorable. However, it's the service, creativity, and dedication of the staff that will make this day truly special. From invitations to wedding cakes, floral creations to memorable farewells, trust Four Seasons to simplify the planning and make this wedding day everything that could be ever imagined. A Four Seasons on-site expert will work with the couple or their wedding consultant to reserve the dates, plan the schedule of events, coordinate all food and beverage details, from menu design to linens, and assist with other aspects of the wedding experience at the Resort bringing fantasy wedding to life in every perfect detail.
Both the Reef Lawn and the Tiran Garden Terrace offer breathtaking vistas of sea and sky, against the picture perfect greenery of lawns and swaying palm trees. The all-marble staircase leading to the Nafoura Courtyard is a dramatic backdrop for photographs, with a vaulted ceiling and clean, contemporary lines. The combination of the colour of the sea, the sand, with the greenery of the gardens and palm trees makes this resort a venue that is unbelievably beautiful.
Just tell us your wishes for your special day and our skilled Wedding Specialists will make it happen. Contact us for special wedding offers.