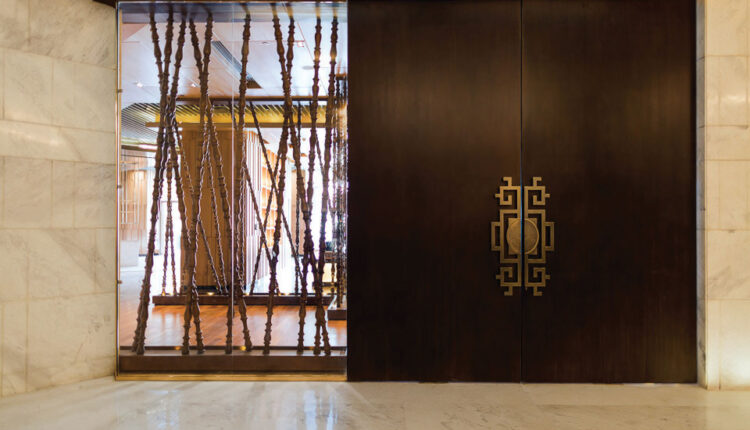 Dusit Thani LakeView Cairo will soon be the stunning setting for a culinary experience unique not only to Cairo and Egypt, but also to any other Dusit hotel in the world. Their multi-Asian 'live cooking' restaurant 'Tao' offers a journey through Chinese, Japanese and Indian cuisine, where guests can select from one menu, two menus or even all three on a journey of discovery.
'Tao' means 'journey' or finding a path through life. A traditional Tao story tells of a young Thai boy sent by his father to explore Japan, India and China in search of 'treasure'. The boy learns that the 'treasure' was the journey itself and the chance it brings to discover new cultures, new peoples and new styles of cooking … from sushi and noodles, to curries and spices.
Dale D'cruz, restaurant manager at Tao, has arrived from the Hyatt Regency, New Delhi, in his native India. He explains: "We take our arriving guests briefly through this journey of Indian, Japanese and Indian cuisine, past the open kitchens for each style of cooking. This is what makes Tao unique; there are other multi-Asian restaurants, but
none have open 'show' kitchens for each style of live cooking. And none can interact with diners and draw them into the experience as we can at Tao."
Overseeing operations, and recruitment, in all of the open kitchens is Head Chef Panya Thosaunchit, who has moved along just a few paces from being Chef de Cuisine at the Dusit's signature Ruen Thai restaurant.
"This is a very exciting concept for Cairo and we have recruited the best possible team to create the best for our guests."
There are 18 chefs in total, each from the country native to the cuisine, with specialists in some cases for particular dishes within that cuisine The Indian open kitchen has three Tandoor ovens in full view of the diners, who can watch the chefs creating, for example, Mutton Seekh Kebab, Suva Salmon Tikka or Lobster Tandoori. Mashahari curries
include Butter Chicken and a variety of Sakahari vegetarian curries. The kitchen is the province of Chef Abhay Kala. He said: "It is very rare to have a live open kitchen for Indian cuisine, but today this is what diners expect; to be able to see food being prepared and to interact with the chefs.
"We are ready to create 'off menu' – if they love a particular curry, we will make it. They can help to make their own Naan bread and can choose items for their own 'basket' of different dishes to be brought to the table." All of Abhay's chefs are, like him, from India – from Chennai or Bengal with a specialist Tandoor chef from the Punjab. This is a theme that is repeated in all of the 'open kitchens' that tell this extraordinary Tao story.
The Japanese kitchen and cuisine is under the loving care of Sherwin Anib, formerly in charge of the Dusit's Izumi sushi restaurant, which is now being absorbed into Tao. Sherwin's domain includes the sushi kitchen, a hotplate for teppanyaki and – in yet another unique twist to the Tao story – a robato grill.
Sherwin said: "This is another first for Cairo – and this is the way Japanese traditionally love their cooked food – not so much as teppanyaki, but robatoyaki on the robato grill; this is Japanese barbeque. It is perfect for cooking meat and fish and is a brand new concept for Cairo … and Egyptians will love it!"
Guests can watch their choices slowly grilling over the robato charcoal, including mackerel, sea bream, salmon, scallops, wagyu beef, splashed with terriyaki or ponzu sauce. Teppanyaki is still an essential star in Tao's Japanese cosmos, including 12 separate items plus four set menus with combinations featuring rib-eye, tenderloin and sirloin steak, salmon and lobster.
Chef Sherwin – all of his team are native Japanese cuisine specialists – has added 'Hokkigai', surf clams, to the sushi, sashimi, temaki and moriawase selections. The menu tantalises with 'Tao Specialities' such as thinly-sliced Wagyu beef in ponzu sauce; seared fresh salmon with miso flakes and avocado and sashimi moriawase … salmon, tuna and scallops.
The diners' 'multi-Asian' experience crosses even more boundaries when the 'Tao Story' takes them also to China. Chef Ta Duy Dat's Chinese section's open kitchen boasts four wok stations and a Peking duck oven under the expert eye of a chef from Beijng recruited specifically to prepare this delicacy. There is a special section for steam
dumplings and preparing the Dim Sum.
A particular delight of Tao's Chinese menu will be fresh hand-pulled noodles – yes, of course, Tao's Head Chef Panya recruited a chef who specializes in preparing this essential element of Chinese cuisine. On the menu you will find homemade hand-pulled noodle soup and wokfried hand-pulled noodles with a huge choice of accompanying dishes. There is a show kitchen for generic desserts not specific to any of the individual menus, plus homemade ice cream selections.
Dusit Thani's philosophy of recruiting chefs from each country of the respective cuisines extends also to the service staff. Dale D'cruz says: "Our serving staff, all waitresses and all expats, are truly international and between them have languages from many countries – Taiwan, Philippines, India, Myanmar, China and include Mandarin and Hindi speakers. Wherever our guests are from we can make them truly at home."
For before, or even after the meal, there is a lounge area with a bar and a team of expat barmen mixing cocktails, with a sommelier to advise diners on a selection of fine wines imported from France and Italy specifically for Tao, and 'digestifs' to complete the dining experience. There is also an outdoor terrace where guests can choose from a
selection of fine cigars.
Dining at Dusit Thani LakeView Cairo always offers an extra dimension of style, class and the unsurpassed charm and excellence of Thai hospitality. Now, Tao offer the chance of taking an exciting journey too … "and a unique experience," added General Manager Ahmed El Hady, "unique for Cairo and for Egypt."