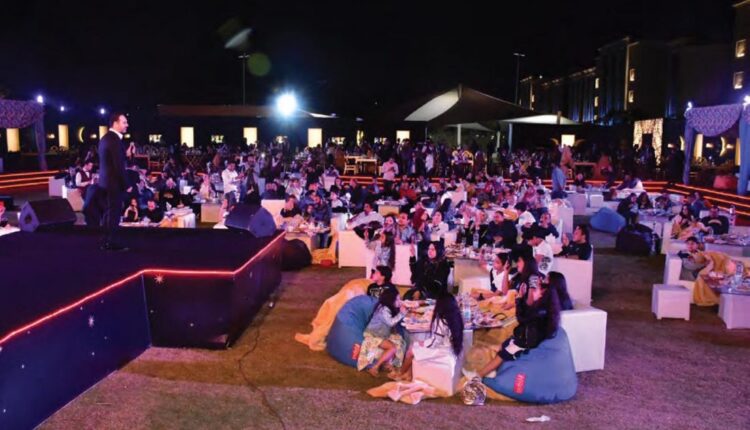 Sahraya Tent by Dear Guest & Talent WM @ Triumph Luxury Hotel Cairo
Sahraya Tent
Sahrya tent rocked Ramadam this year. In a cozy and classy atmosphere , Dear Guest & Talent WM organized Sahrya tent at Triumph Luxury Hotel. Sahrya nights were full of Mega stars as Wael GassarMohamed Sharnouby, Ramy Sabry, poussy, Ahmed Adwya & El Lithy..
Grand Nile Tower hosted its media partners for Sohour gathering
Grand Nile Tower held a charming Sohour evening for its press and media partners at Marquise Boat where they enjoyed the Ramadan lovely atmosphere and the delicious Sohour specialties, at the moon deck Terrace at Marquise Boat overlooking the Nile and the oriental takht which provided a perfect setting to enjoy Ramadan social evenings. They expressed their admiration for the place and their excitement to spending extraordinary Ramadan experience. Sherif Medhat,Commercial Director at Grand Nile tower said: "We commit to provide a memorable Ramadan experience at Grand Nile tower where the guests can enjoy a splendid views of the Nile while having their Iftar or Sohour at Marquise Boat, Nubian Village and ".Sakia Souk Terrace
Etisalat Misr Sohour
Etisalat hosted its esteemed partners from the Egyptian media figures, Celebrities, corporate and political figures over sohour in a.traditional Ramadan atmosphere of oriental music and traditional food and drinks at Nile Ritz Carlton hotel.
OPPO Sohour
Celebrating Ramadan vibes, OPPO hosted a dazzling Sohour that took place in El-Hara tent, powered by OPPO, at the Sky Resort, Fifth Settlement. The Sohour was attended by Egyptian media and Khaled Shokry, Senior Marketing Planning Manager OPPO Egypt, Marwa Moneer Senior PR Manager OPPO Egypt together with OPPO team. The attendees enjoyed their quality time and an authentic Ramadan experience with a special performance by the 90's music icon Hisham Abbas.
JW Marriott & Renaissance cairo mirage city hotels AUTHENTIC Customer Sohour
JW Marriott & Renaissance Cairo Mirage City Hotels hosted a remarkable Customer sohour this Ramadan at The Beach by inviting the top corporate accounts, travel agents, media figures and JW Charms Ladies Society members. The night kicked off with Takht that included all the Egyptian nostalgic folklore songs in a warm atmosphere followed by exquisite tastes of hot and cold mezzah, oriental grills, delectable desserts and an endless range of flavored shisha. The guests were entertained by "Bossy & El Laithy" who set an incredible engaging ambiance giving a special taste to the Sohour overlooking the breathtaking views of The Beach. Guests were genuinely welcomed upon arrival by our General Managers Richard Zeolla and Ashraf Michel along with the Multi- Property Sales and Marketing teams upon arrival.
Ramses Hilton Hosts a Glamorous Sohour Party in Celebration of the Company's 100 Years Anniversary
This year's Ramadan annual sohour party at Ramses Hilton was celebrated in a special way as part of Hilton's 100 years anniversary celebrations. The hotel's annual tradition of hosting its esteemed partners from the Egyptian media figures, travel agencies, corporate and influencers over sohour included breathtaking presentations and activities such as a fireworks show, a laser show projecting Hilton's logo in colorful lights, as well as the traditional, valued Ramadan atmosphere of oriental music and traditional food and drinks. Invitees were welcomed by Mrs. Soha El Torgoman, Cluster Manager of Ramses Hilton & Hilton Cairo World Trade Center Residences, The sohour took place at Breezes pool restaurant, which boasts an amazing view of the Nile and Cairo's skyline.

A Glamorous Grand Opening Ceremony of Steigenberger Pyramids Cairo Hotel!
Steigenberger Hotels Resorts Egypt was proud to host a memorable evening of glamour and finesses whilst celebrating the grand opening ceremony of its latest venues alongside the Pyramids and directly facing the New Grand Egyptian Museum – Steigenberger Pyramids Cairo Hotel. The evening witnessed the presence of H.E. Hesham Tawfik – Minister of Public Business Sector, Mrs. Mervat Hataba – Chairman of HOTAC, Mr. Hamed El Chiaty Chairman of Travco Group, Mr. Thomas Willms, CEO of Deutsche Hospitality – the umbrella brand of Steigenberger, and a crowd of VIP attendees including diplomats, government officials, hospitality veterans, business & media partners. Mr. Ashraf Wahba, the General Manager, and the management team spared no effort in the planning the event to enchant and delight guests. The iconic red carpet extended at the hotel passageways, the venue decorated with candles, and flowers. The enchanting music vibes of the live Harp performances and band added a pinch of magic to the breathtaking views of the pool whilst having the Pyramids as the backdrop. The miraculous dazzling evening had an extra dimension of enchantment with a gourmet dinner experience and cocktail reception, which all the attendees praised.
Hyatt Regency Sharm El Sheikh Clients Sohour
Hyatt Regency Sharm El Sheikh has invited their clients and media partners for a magnificent sohour event at Abdel Wahab Restaurant Nile maxim Cairo overlooking the Nile. During the sohour, attendees have enjoyed the event in a wonderful ambience tinged with an oriental band and delicious sohour, reflecting the strong relationship between Hyatt Sharm El Sheikh and their partners. Mr. Radcliffe has thanked all the clients and partners for their efforts and support over the past years. Where Radcliffe masterminded a raffle draw competition between the attendees and presented 9 valuable prizes from accommodation in Regency Club rooms and suites to Presidential and Royal Villas accommodations to the lucky draw winners.
Supporting Egypt's Sustainable Development Goals of 2030 IKEA Launches "A Better World Starts at Home" Campaign in Egypt
With a vision to inspire and enable 1bn people to live a healthier and more sustainable life at home, IKEA launches "A Better World Starts at Home" campaign bringing sustainability into the everyday life of people in Egypt, helping them to see how a better world starts at home. The campaign is designed to encourage people to engage and celebrate small positive changes that can make a difference to their homes and the world. The campaign runs over April and May and witnesses the launch of two events targeting the general public, food bloggers and media. The first event, How to reduce food waste, explores how people can host dinner parties with the lowest environmental impact solutions whilst the second is an activation on Earth Day to encourage cycling to generate power. The latter aims to encourage Egyptians to adopt a healthy lifestyle using a fun and interactive game by encouraging family members and friends to gear up and cycle to power/ light up Ikea's 2020 sustainability goals mockup. Doaa Hashim, IKEA Family Manager comments on the campaign," We always think long term to be able to meet the needs of people today without compromising the needs of future generations. By 2030, we will inspire and enable people to make healthier and more sustainable choices by offering knowledge, ideas and new affordable solutions". She adds, "In IKEA, we believe that sustainability can't be achieved in isolation, we must work together to achieve it. Our 'A Better World Starts at Home' campaign will unify all our efforts in IKEA and through our efforts we hope to encourage more Egyptians to adopt sustainable and healthy lifestyles." IKEA has formed a global partnership with Reform Studios, an Egyptian start-up design studio that innovated a range of products using textiles made from recycled food packaging. Reform studios devised a way to transform plastic bags into fabric with the aim of extending the life of old plastic. One of the products that will be showcased soon in Ikea's stores is Ikea's iconic Frakta bag, the familiar blue shopping bag used for transporting IKEA goods to the home, which will now be made from the equivalent of 32 chip packets. Globally, IKEA first launched their sustainable strategy "People and Planet Positive" in 2012 with the mission of creating a positive impact on people and the planet by encouraging the adoption of more sustainable lifestyles and business models; allowing to create better everyday lives for everyone.
LG Reveals One of a Kind Energy-saving Air Conditioners Multi Split Solutions and Dual Cool Equipped with the latest Inverter technology, providing up to 60% energy savings
Cairo, Egypt – 17th of May 2019: In light of the holy month of Ramadan, LG hosted a sohour gathering at Kempinski hotel, attended by esteemed media representatives, company suppliers and partner, Hazem Emam, an iconic football figure and LG ambassador. LG has also announced its latest product additions, the Dual Cool and Multi Split Solutions air conditioners, which are equipped with the company's latest high technology that allows them to save up to 60% of energy. Being one of the most innovative brands, LG ensures their products are always up-to-date and in parallel with the latest trends and advanced technology. LG has recently introduced the revolutionary advanced inverter technology that speaks durability and energy-saving. This new technology can guarantee superior cooling, unbeatable energy efficiency and the ultimate in comfortable and reality. In comparison to traditional compressors, the inverter technology allows the air conditioner to maintain a cool room temperature by slowly increasing and decreasing output depending on its surroundings, bringing a number of benefits including world-class energy efficiency, improved comfort and sustained reliability. LG is always keen on developing products that serve different target segments. The brand new Multi Split Solutions and Dual Cool air conditioners are tailor-made to fit different segments while maintaining their innovative brand image. The Multi Split Solutions air conditioner is the ideal investment; it provides powerful, efficient cooling and heating with up to six indoor units operating of a single outdoor unit. Thanks to the inverter technology, the air conditioner can save up to 50% of energy while maintaining a longer life span than any other air conditioner. On the other hand, the Dual Cool air conditioner, also equipped with inverter technology, saves energy for greener environment and provides greater performance than ever. LG Dual Cool inverter air conditioner works with a 10-year warranty on the compressor so consumers can enjoy the benefits for a longer period. It can adjust the speed of the compressor according to the outdoor temperature. In hot weather or when the air conditioner is activated, Dual Cool can reach setting temperature 30% faster than any traditional noninverter air conditioner. Not only that, but unlike most of air conditioners in the market, the Dual Cool air conditioner is TUV Rheinland certified; it saves 60% of energy when reaching the average temperature between outdoors and indoors areas with a constant speed compressor. "Nothing beats the satisfaction of our customers to motivate us to develop products that meet their needs and provide technologies that can spare them additional costs," said Don Kwack, Managing Director of LG. "Not only does LG provide innovative and advanced solutions but it also ensures that they benefit the consumer in other ways, like saving electricity and energy for example," he added.
LG is known as the most innovative technology brand and it never fails to win this title. Advanced technology never stopped the company from providing their customers with the best products at a minimum cost, always ensuring the satisfaction of their consumers.
MARRIOTT INTERNATIONAL CELEBRATES 10th Annual 'IFTAR FOR CABS' initiative IN SAUDI ARABIA
Associates celebrate the Holy month of Ramadan showing their appreciation to the hard-working cab drivers across Saudi Arabia
As part of its ongoing commitment to the Holy Month of Ramadan, Marriott International celebrated the tenth annual 'Iftar for Cabs' initiative at participating Marriott International hotels in the Middle East and Africa, including 23 properties in Saudi Arabia. During the hour of Iftar on Tuesday, May 14th, 2019, cab drivers who drove through the main entrance of any of the participating hotels received complimentary Iftar packs to break their fast. Catering teams at each hotel prepared Iftar packs, which included a diverse selection of food and beverage items. Associates from across various departments within the hotels, including Catering, Administration and Guest Services joined forces to bring the 'Iftar for Cabs' initiative to life. Launched in 2010, the 'Iftar for Cabs' initiative has turned into an annual tradition for many cab drivers throughout the region. The initiative has been widely appreciated by hotel owners, local communities and transport authorities. "We thank the cab drivers who support our hotels throughout the year. Iftar for Cabs embodies the spirit of Ramadan and we are extremely proud of our hotel teams as they unite to give back and recognise important members of our community," said Guido De Wilde, Chief Operating Officer, Middle East, Marriott International. The 'Iftar for Cabs' initiative falls under Marriott International's Sustainability and Social Impact Platform, Serve 360: Doing Good in Every Direction, which guides how the company makes a positive and sustainable impact wherever it does business. From empowerment opportunities to sustainable hotel development, the platform is designed to foster business growth while balancing the needs of associates, customers, owners, the environment and communities. One of the priority areas, or "coordinates", of Serve 360 is Nurture our World. 'Iftar for Cabs' is an initiative that directly supports and brings this vision to life.
HMD (Home of the Nokia Phones) Sohour @ Fairmont Nile City
In celebration of the holy month of Ramadan, HMD Global Egypt (Home of the Nokia Phones) held a unique Sohour for media figures and its business associates at Fairmont Nile City hotel. Mr. Tamer El Gamal, the General Manager and Mrs. Doaa Abdul Aziz, the Country Marketing Lead, announced the strong return of Nokia with its latest smart phones with two ears software update guarantee.
In an exclusive cooperation with Egyptian football star Hazem Emam Orange Egypt and VictoryLink continue to lead value-added digital services And announce "Live with Hazem Emam" new service
Orange Egypt, the leading provider of integrated telecommunications services, in cooperation with VictoryLink, the leading Egyptian company in digital solutions announced a new exclusive partnership with the Egyptian football star Hazem Emam (Live with Hazem Emam) . The partnership aims to enrich and support cultural and artistic scene in Egypt by offering a new range of entertainment to Orange customers and the Egyptian market.
Hazem Emam was chosen for his well-known morals and fine taste in sports and media, especially in the field of football, in addition to his great popularity among fans and followers of Egyptian football.
The new service introduces a diverse combination of entertaining visual, audible and readable content, providing customers with the opportunity to explore a variety of sports information, exclusive news and analysis of important games, as well as personal aspects of Hazem Emam life in addition to his rich football history and his current projects in the field of sports.
The new service will be available through a special platform, which is designed specially to address orange customers' needs and interests. Orange customer can easily subscribe to this service by calling * 14 #.
Orange is also keen to offer its customers exclusive features where new subscribers will have the chance to spend a full day with Hazem Emam and participate with him in a variety of recreational activities, such as performing some football skills, motorcycle riding, as well as attending his behind-the-scenes TV programs footage, participate in a football match and even enjoy a PlayStation match with him. Winners also have the privilege to bring some of their relatives and friends.
On this occasion, Pierre Etienne Cizeron Chief Consumer Business Unit Officer at Orange Egypt said "We are proud of our new collaboration with Hazem Emam, who is considered a great addition to the unique sporting content that Orange is offering to its customers through a powerful and diverse entertainment platform that captures the interest of a large segment of our subscribers. Such new innovative services allows us to get closer to our customers and share the events they love."
"Sponsoring football comes as part of the Group strategy. Orange Group is sponsoring CAF competitions and I would like to seize this opportunity to congratulate Egypt on hosting the AFCON 2019 championship wishing the Egyptian national team the best of luck in winning the Africa Cup of Nations." Added Pierre
Engy El-Saban, CEO and board member of VictoryLink stated that: "It is our ultimate pleasure to join Orange Egypt and Egyptian football star Hazem Emam to provide exclusive rich content to hundreds of thousands of football fans and enthusiasts, and to position this service as the prime provider for Hazem Emam related content.
"This is a comprehensive and interactive digital experience that connects Egyptian football star Hazem Emam with all football fans through their mobile phones, in a step to connect public figures with their audience in addition to promoting their personal brand." Added Engy.
OPPO Launches F11 Series: Versatile Mastery, Breakthroughs in Photography and User Experience
OPPO officially launched the F11 and F11 Pro on Monday 15th of April in Four Season Nile Plaza This time the F11 series upgrades from slfie expert to portrait master, featuring a 48-megapixel (MP) image sensor to provide users with an unprecedented night photography experience. Software and hardware upgrades combine to improve battery life, gaming performance, and user experience. In addition, the F11 Pro boasts an uninterrupted full screen display made possible by a hidden front camera module.
A New Design Experience: From Trend to Art OPPO has also achieved breakthroughs in design, incorporating vigorous natural beauty into the F11 series via gradient color design.
OPPO advocates an aesthetic of "natural creation" and has captured the beauty of nature in the F11 Pro via breakthroughs in both materials and workmanship. OPPO is also the first smartphone manufacturer to create the first triple-color gradient design, Thunder Black. This unique design blends red and blue into classic black, akin to a meteor streaking across the night sky. OPPO also created a unique double-color gradient design, Aurora Green, which draws inspiration from vibrant blue oceans interwoven with lush green continents.
The F11 series comes equipped with a 6.5-inch full HD+ screen, featuring an aspect ratio of 19.5:9 and a screen-to-body ratio of 90.9%. In particular, the F11 Pro features a hidden front camera module to free up space for its full screen display. The motor on the front camera modules has been thoroughly tested to ensure it can operate 100 times usage per day for 6 years without fail, thus ensuring a positive user experience.
The F11 series features elaborate design, retaining the experience- optimized crescent design from the previous generation, but also adding a transparent, amber-colored hidden camera module. When the camera rises up, users are treated to a stunning visual experience.
From Selfie Expert to Portrait Master OPPO has worked for years to advance the field of selfie photography, and with the F11 series has taken the next step to propel users to portrait master. To help users capture great photos anytime and anywhere, OPPO has made considerable efforts to make it easier to shoot sharp and marvelous portrait at night. The F11 series is equipped with a 48 MP image sensor and F1.79 large aperture. Together with a 6P lens, the camera can sense more light when shooting in low light conditions, ensuring more details are captured. When capturing a night portrait, the included Tetracell technology analyzes and combines data from four adjacent pixels to achieve the equivalent of a single 1.6μm pixel. Twice the number of photosensitive pixels improves light sensitivity and allows users to capture clearer night portraits.
The F11 series also employs Ultra Night Mode and Dazzle Color Mode technologies. These technologies leverage AI and multi-frame noise reduction to achieve noise reduction, handheld stabilization, highlight suppression, and enhanced dynamic range. These features combine to enable users to capture levels of brightness and detail that normally exceed the limits of the human eye. When capturing a night portrait, the F11 series automatically distinguishes between a human face and the background, ensuring the human is the focus of the scene. Employing a 48 MP lens, Ultra Night Mode, and Dazzle Color Mode, the OPPO F11 series features a combination of hardware and software applications that allow users to easily capture sharp and stunning night portraits.
The F11 series not only captures excellent portraits with its rear camera, but also continues the "Selfie Expert" tradition of the F-series. Selfies taken with the F11 series are as natural and beautiful as ever.
From Photography to All Purpose
The F11 series succeeds in upgrading the overall user experience. It comes equipped with a 4,000mAh battery, 500 mAh higher than the previous generation. The brand new VOOC 3.0 flash charging technology leverages a new FFC algorithm, shortening charging time by 20 minutes compared to the previous generation, which means the F11 series can be charged within 80 minutes. In terms of safety, OPPO has customized special adapters, batteries, cables, circuits and interfaces, and developed its intelligent five layers of protection technology to keep users safe. Now, VOOC has over 90,000,000 users around the world. The F11 series also reduces power consumption through optimized hardware and software technology. It contains a low-power MTK P70 CPU and ram-equipped display, while also accurately monitoring app power consumption to optimize app performance. Thus, the F11 series achieves a longer battery life via faster charging technology, a larger-capacity battery, and lower power consumption. In regards to gaming, OPPO has independently developed its own performance acceleration engine called Hyper Boost, optimized for 11 popular mobile games, including PUBG and AOV. By optimizing the system resource mobilization plan, hardware resources can be utilized more effectively, resulting in faster game response, no disconnections, and no dropped frames. Meanwhile, OPPO has introduced two useful tools— Game Space and Game Assistant, providing gamers with a more immersive gaming experience.
The F11 and F11 Pro are also equipped with the new ColorOS 6 system, specially designed for full screen smartphones. The innovative borderless design further increases ease of use. In addition, ColorOS 6 has multiple functions, including OPPO Cloud Service, Smart Assistant, and Gesture Navigation, allowing users to experience a smarter lifestyle.
Market Availability Information For the OPPO F11 Pro, the 6GB+128GB version will be priced at EGP 6,990. For the OPPO F11, the 6GB+64GB version will be priced at EGP 5,590.
The F11 Pro will be available for purchase at 17th of April. The F11 will be available for pre-order starting 16th to 22nd of April, and the phone will be available for purchase on the 23rd of April. Customers will also enjoy the Avengers' giveaways accompanying the phone.