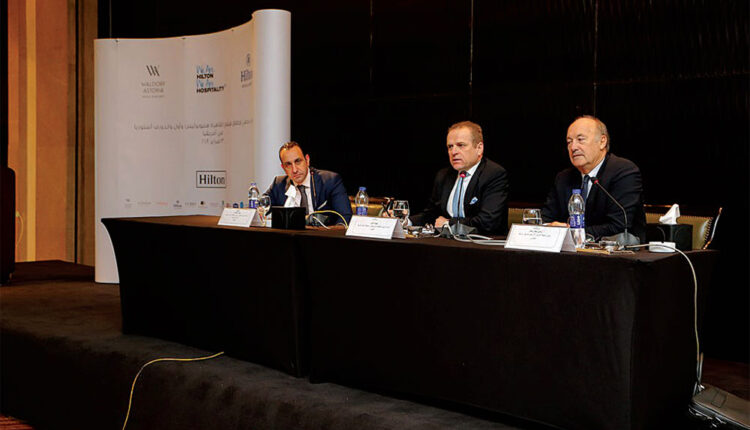 Hilton Completes Landmark Dual-Brand Signing in Heliopolis Hilton Cairo Heliopolis Opens along side Towers Luxury Hotel, the Soon-To-Be First Waldorf Astoria in Africa
Hilton Cairo Heliopolis
Hilton continues its growth and development in Egypt, 60 years after first entering the country, with the opening of the Hilton Cairo Heliopolis. The leading global hospitality company has also confirmed plans for the debut of its luxury brand Waldorf Astoria in Egypt later this year – once rebranded this will be the company's first Waldorf Astoria hotel in Africa, staking ground for Hilton as a luxury operator in the region.
Hilton has signed two management agreements with Gulf-Egypt for Hotels & Tourism (S.A.E) to operate Heliopolis Hotel & Towers Luxury Hotel under two distinct brands. A 593-room upscale Hilton property is now welcoming guests alongside the 247-room the Towers Luxury Hotel which will rebrand as Waldorf Astoria Cairo following an ambitious renovation programme.
Scheduled to be completed before the end of 2018, the refurbishment will create a new home for luxury travelers to Africa, bringing Waldorf Astoria's inspirational environments, unforgettable experiences and True Waldorf Service to the continent for the first time. This will include a redesign of all 247 guestrooms and suites under a customized design concept reflecting the finest traditions of Egyptian hospitality, a renovation of the spacious atrium lobby area to create an iconic arrival experience and the addition of a refined destination spa.
Waldorf Astoria Cairo's Personal Concierges will ensure that each guest receives anticipatory and personalized service before, during and after their stay.