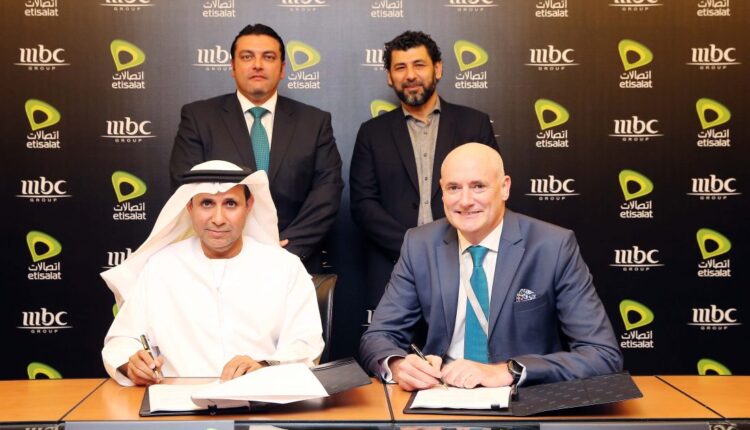 E-Vision Partnerswith MBC GROUP in Exclusive IPTV/OTT Channel Distribution Rights deal in the UAE
E-Vision Partnerswith MBC GROUP in Exclusive IPTV/OTT Channel Distribution Rights deal in theUAE
E-Vision, a fully owned subsidiary of Etisalat, signed a strategic partnership with MBC Group to obtain exclusive rights to distribute MBC channels in the UAE.
This strategic announcement makes E-Vision the point of contact for distribution of MBC channels in the UAE. Therefore, any platform that wishes to carry or renew carriage of MBC channels in the UAE will need to enter into contract with E-Vision for that purpose.
Under this agreement, E-vision further empowers Etisalat's eLife with more TV channels and programmes from the region.
Starting from this month, eLife will be offering two additional channels from MBC, namely MBC+ VARIETY and MBC+ DRAMA which will be available on eLife and eLife ON App.
Additionally, eLife customers will enjoy an exclusive channel that will be launched by MBC and E-Vision late April. Moreover, eLife customers will be able to gain access to SHAHID content, MBC's leading Video-On-Demand service in the MENA Region and SHAHID PLUS (including Ramadan series) at no extra charge in their IPTV and via the eLife ON App, free to all eLife customers.
Commenting on the exclusive agreement, Humaid Sahoo Al Suwaidi, E-Vision's CEO, said: "Entering into this strategic partnership, reiterates E-Vision position to acquire distribution rights to world-class channels and content. As a pioneer and trusted content aggregator in the region, E-Vision is constantly striving to bring comprehensive turn-key solutions for content aggregation and content management for IPTV platforms and multi-screens (OTT)."
As for Sam Barnett, MBC Group CEO, he added: "MBC Group is committed to bringing premium content to our audiences in the UAE and the region at large. This partnership with E-Vision is yet another step in the optimisation of our audience's experience on Etisalat's innovative platforms".
E-Vision now holds exclusive IPTV carriage rights to all MBC HD channels including; MBC1, MBC2, MBC3, MBC4, MBC DRAMA, MBC MAX, MBC ACTION, as well as any future HD additions. The partnership has enabled eLife customers also have exclusive access to MBC+ channels such as, MBC+ DRAMA and MBC+ VARIETY.