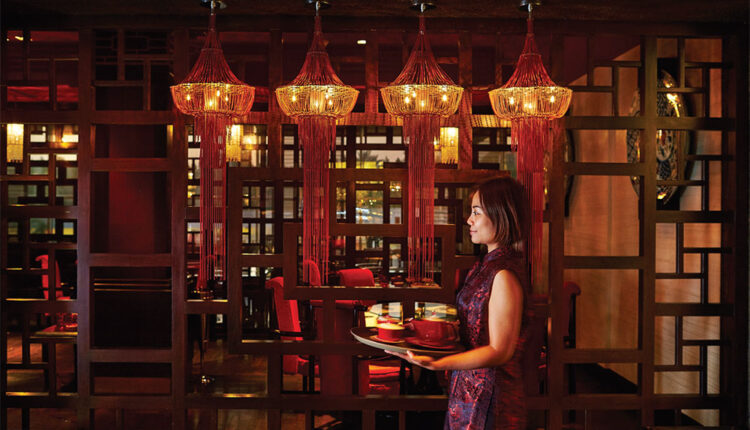 Chinoix A Chinese Culinary Adventure to be Discovered & Explored!
Chinoix restaurant at Renaissance Cairo Mirage City is a destination
to add to your 'must try –feel good' dining out list. You will simply
be full of happiness! A true gem, Chinoix does not only present a
wonderfully diverse menu with mouthwatering selection of authentic
Chinese delicacies, it will blissfully indulge you with all that we love
and adore about Chinese décor. Cultural, yet modern in approach, Chinoix adds to
each and every dining experience by allowing guests to relax and absorb a sincere
mood with an enhancing & engaging atmosphere. The restaurant offers a variety of
seating and table arrangements to suit all dining occasions. Couples will be drawn
to the cozy, intimate spaces, families & friends will appreciate the famed 'Chinese
family style 'seating, whereas larger groups will appreciate the long table set-ups
that still feel sociable and communicative. For couples or an entourage desiring a
more enclose area, the private dining room is a more than perfect choice. Chinoix
is not your regular Chinese restaurant simply offering appealing dishes; it serves an
all-round, pleasurable experience to all diners.
Chinoix's Chinese chefs have created a carefully crafted menu that appeal to the
tastes of all plates which stand true to the origin and story behind each dish. Diners
are spoiled for choice as the menu is quite varied and offers tempting opportunities
for everyone. Families and groups of friends are drawn to the family style menu
options, as they are extremely generous as well as diverse. The Chinoix menu caters
seamlessly to all types of dining experiences for both lunch and dinner.
Menu highlights consists of tasty appetizers such as Chef's Dumpling Selection and
Chinoix Assorted Platter which includes Shrimp Kunafa, Vegetable Spring Rolls
along with Honey Sesame Chicken Skewers. Flavorsome soups such as Crab Meat
with Sweet Corn and sizzling dishes straight from the wok such as sweet and sour
prawns with Pineapple, in addition to Grilled Lobster, Beijing Style. Wok Fried
Lamb Chop with spicy garlic sauce, Pan Fried Sliced Beef with Black Pepper Corn
Sauce, Beijing Roasted Duck, Chicken Gongbao with Cashew Nuts. The perfect
conclusion to any meal, an assortment of Asian desserts which include candied
banana toffee with vanilla ice-cream, deep fried ice cream and deep fried chocolate
wonton with vanilla ice cream and chocolate sauce.
Chinoix restaurant is the perfect place within the sophisticated surrounds to enjoy
a wonderful experience with family and friends, make a lasting impression on your
business colleagues or savor intimate, high quality dining with a treasured loved
one. With such an enticing choice of dishes available, everyone in your group is
bound to find something they will love.