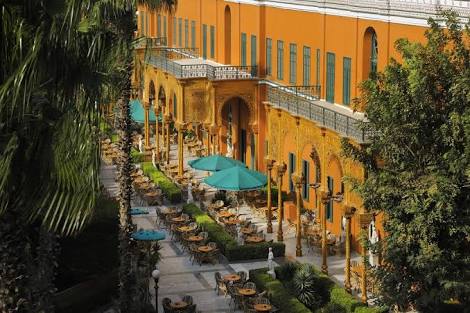 The Cairo Marriott – Weddings
Ring the Bells…
Wedding Ceremonies Fit for Royalty
What better way to start a blessed life with your partner than at a fairy-tale palace?! At the Cairo Marriott your wedding can become a marvelous affair that you and your guests will hold dear to your memories. The historical grandeur of the palace adds magic to your special day creating a balance between royal chic and classy modern trends.
Palatial Ballrooms
The Cairo Marriott boasts not one or two but six marvelous royal venues to choose from. The Salon Royal and Eugenie Ballroom will make even Prince William and Kate hearts flutter; with beautiful chandeliers, marble floors and a royal staircase. Both venues connected accommodate up to 300 guests. Regal weddings can take place at Salon Vert for a spectacular reception or gala complete with lavish marble floors and decor. For more intimate, yet royal celebrations, salons "Verdi", "Memphis" and "Thebes" create the perfect setting.
A View Worth a Thousand Years
Opt for a fresh outdoor venue like Almaz with a magnificent view of the Nile; it is almost as if you are looking onto years of history while writing your own. A dinner or cocktail reception whether by day or night is sure to captivate and excite your guests bringing the celebration to a fantastic start.
Make a Wish
Our team of professional certified planners are ready to take your ideas and materialize them into a reality with ease. They are ready to offer their professional opinion to help you choose the right venue, menu, setting, decorations and entertainment. Who said a genie has to come in a bottle?
Delightfully Delicious
An expert team of chefs are ready to prepare buffets and A La Carte meals that satisfy even the most discerning palates. Everything is prepared fresh and in the state-of-the-art "Green Kitchen", the first of its kind in Egypt. Whether you are aiming for classic options or a more eclectic spread of fusion dishes, the wide selection guarantees a satisfying experience.
A Happily Ever After
Honeymoons are equally as important as the wedding ceremony and since we understand that, our honeymoon treats go over the borders for free getaways in all Marriott Hotels worldwide. For every dollar spent, 3 points are added on your Marriott Rewards card which can be redeemed for free nights and upgrades at every Marriott hotel around the world. Now that's a wedding gift to remember!