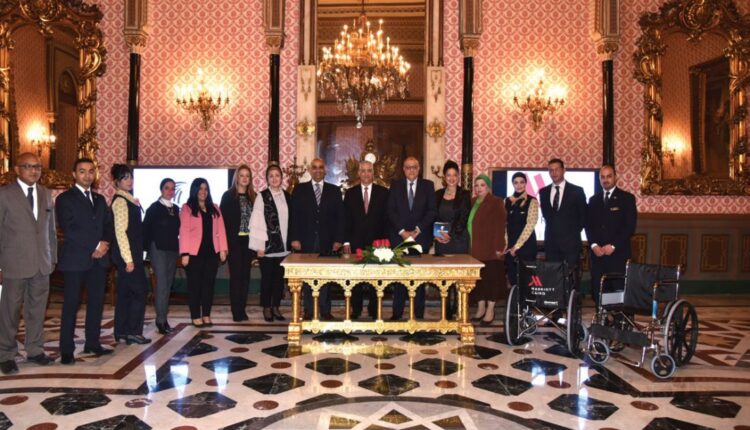 Cairo Marriott helps enhancing the travel Experience of EgyptAir's passengers with reduced mobility (PRM)!
As part of Marriott's continuous "Spirit to Serve" initiatives and their strong commitment to #TravelBrilliantly, Cairo Marriott provided 60 wheelchairs to EgyptAir's Cairo-Egypt terminals to help Passengers with Reduced Mobility – PRM. A person with reduced mobility (PRM) is any person whose mobility when using transport is reduced due to any physical disability (sensory or locomotor; permanent or temporary), intellectual disability or impairment, or any other cause of disability, or age, and whose situation needs appropriate attention and the adaptation to his or her particular needs of the service made available to all passengers. This tremendous effort was to help enhance the passenger's experience because nothing should stop anyone from travelling and exploring the world. To celebrate the protocol, General Manager of Cairo Marriott Omar Tantawy and Sherif El Maghloub, Vice President Commercial at EgyptAir, signed the agreement at Eugenie Salon with the presence of EgyptAir members and the Cairo Marriott Sales & Marketing leaders.
Egyptair has been Egypt's national airline for 85 years and the Gezira Palace has been an iconic landmark since 1869 in which this year marks the 35th anniversary of it being branded as the Cairo Marriott Hotel. Cairo Marriott is continuing to promote the destination believing that this will dynamically help increase tourism to Egypt and goes very much in line with their destination campaign to #Activ8Egypt.