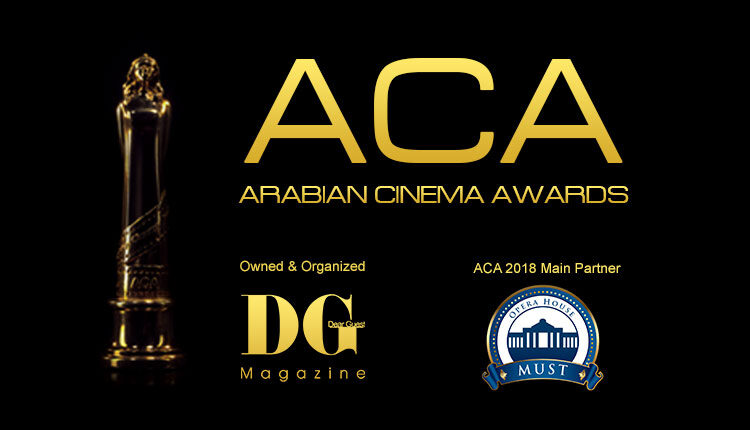 ACA's Nomination Short List
The Arabian Cinema Awards
ACA's Nomination Short List
The Arabian Cinema Awards
Cairo – August 12th 2019..
The Arabian Cinema Awards owning and organizing company, DearGuest announced the ACA's short list for films screened at cinemas during 2018..
This  year award ceremony will take place on Friday October 25th @ MUST Opera theater MISR Universty (ACA'S 2018 main partner)
NOMINATIONS BY CATEGORY – 4th Season….
Performance by an actor in a leading role
– Akram Hosny "El Badla"
– Aser Yassine "Torab El Mas"
– Amir Karara "Harb Karmooz"
– Maged Kedwany "Torab El Mas"
– Sherif Desouki "Leil Khargi"
Performance by an actress in a leading role
– Amina Khalil "El Badla"
– Menna Shalaby "Torab El Mas"
– Robi "Aiar Nari"
– Riham Abdel Ghaffour "Soaa El Gomah"
– Yasmine Raees "Balash Tebosni"
Performance by an actor in a comedian role
– Ahmed Fahmy "El Kwayseen"
– Tamer Hosny  "El Badla"
– Shiko  "Alb Omo"
– Ramez Galal  "Raghda Al Motawahesha"
– Maged Kedwani "Talq Senaie"
Performance by an actress in a comedian role
– Dalal Abdel Aziz "El Badla"
– Dalal Abdel Aziz "Alb Omo"
– Eman El Sayed "Gedo Nahnouh"
– Sherine Reda  "Al Kwayseen"
– Shaimaa Seif  "Bekia"
Performance by an actor in a supporting role
– Eyad Nassar "Torab El Mas"
– Ahmed Rizk "Bani Adam"
– Bayoumi Fouad "Talq Senaei"
– Fathi Abdel Wahab "Harb Kmouz"
– Mohamed Mamdouh "Torab El Mas"
Performance by an actress in a supporting role
– Asmaa Abo El Yazid "Aiar Nari"
– Salwa Mohamed Ali "Balash Tebosni"
– Sherine Reda "Torab El Mas"
– Dalal Abdel Aziz "El Badla"
– Safaa El Tokhi "Ward Masmoum"
Best Picture
– El Badla
– El Kwayseen
– Torab El Mas
– Harb Karmouz
– Youm El Deen
Best Director
– Abo Bakr SHAWKY "Youm El Deen"
– Ahmed Fawzy "Ward Masmoum"
– Ahmed El Gendy "El Kwayseen"
– Marwan Hamed "Torab El Mas"
– Karim El Shenawy "Eiar Nari"
Best Editing
– Ahmed Hafez "Torab El Mas"
– Ewrin Greenwell "Youm El Deen"
– Sara Abdallah "Leil Khargi"
– Raheeb Al Owaili "leilet Hana w Sorour"
– Wael Farag "Talq Senaei"
Best Makeup
– Tarek Moustafa "Torab El Mas"
– Tarek Moustafa / Mohamed Abdel Hamid "El Kwayseen"
– Tarek Moustafa "Aiar Nari"
– Sayed Nagib "Harb Karmouz"
– Orabi "Balash Tebosni"
Best Hair Styling
– Sabry Abdel Dayem "Torab El Mas"
– Sayed El Khouli "El Badla"
– Haitham Dahab "El Kwayseen"
– Rashad "Balash Tebosni"
– Sayed Naguib "Harb Karmouz"
Best Art Director
– Adel El Maghrabi "Harb Karmouz"
– Aly Hossam "Aiar Nari"
– Basel Hossam "El Kwayseen"
– Ramy Derag "El Badla"
– Mohamed Attia "Torab El Mas"
Best Sound Editing
– Ahmed Abo El Saad "Torab El Mas"
– Ahmed Gaber "El Badla"
– Tarek Alloush "Harb Karmouz"
– Sherif Zein "Youm El Deen"
– Mohamed Salah "Leil Khargi"
Best Cinematography
– Ahmed El Morsi "Torab El Mas"
– Ahmed Abdallah "leil Khargi"
– Abdel Sallam Mousa "Aiar Nari"
– Federko Seska "Youm El Deen"
– Hussein Asr "Harb Karmouz"
Best Sound Mixing
– Ahmed Gaber "El Badla"
– Ahmed Abo El Saad "Torab El Mas"
– Mohamed Abdel Hassib "El Kwayseen"
– Tarek Alloush "Souq El Gomaa"
– Tarek Alloush "Harb Karmouz"
Best Visual Effects
– Aroma (Tamer Mortada) "Torab El Mas "
– Aroma "Souq El Gomaa "
– Yasser El Naggar "Harb Karmouz"
– Yasser Naggar "Talq Senaei"
– Yasser El Naggar "El Kwayseen"
Best Original Music Score
– Hesham Nazih "Torab El Mas "
– Khaled Dagher "El Badla"
– Tamer Karawan "Tala Senaei"
– Amr Fadel "Youm El Deen"
– Amin Abo Hafa "Aiar Nari"
Best Screen Play
– Abo Bakr Shawky "Youm El Deen "
– Ahmed Amer "Balash Tebosni "
– Ayman Bahgat Amar "El Badla"
– Ahmed Mourad "Torab El Mas "
– Mohamed Diab / Khaled Diab / Sherine Diab "Tala Senaei"
Best Costume Design
– Nahed Nasrallah "Torab El Mas "
– May Galal "Talq Senaei"
– Monia Fath Elbab "Harb Karmouz"
– Monia Fath Elbab "El Badla"
– Reem El Adl "Leil Khargi "
Best Song
– Akheeran – Tamer Hosny "El Badla "
– Toaa w teaom – Masar Egbari "Torab El Mas"
– Helm El Seneen – Tamer Hosny "El Badla"
– Aido Rakseti – Mahmoud El Leithy / Sharmofers "Okdet El Khawaga "
– Makhtatrtesh Haga – Mohamed Adawya "Souq El Gomaa"
TORAB EL MAS  …………… 20 Nominations
EL BADLA  ………………….. 15 Nominations
HARB KARMOUZ  ………… 11 Nominations
EL KWAYSEEN  ……………… 9 Nominations
AIAR NARI  ……………………. 7 Nominations
TALQ SENAEI  ……………….. 7 Nominations
YOUM EL DEEN  …………….. 7 Nominations
BALASH TEBOSNI ………….. 5 Nominations
LEIL KHARGI  …………………. 5 Nominations
SOUQ EL GOMAA  ………….. 4 Nominations
ALB OMO  ……………………… 2 Nominations
WARD MASMOUM  …………. 2 Nominations
RAGHDA AL MOTAWAHESHA, BANI ADAM, GEDO NAHNOUH, BEKIA, OKDET EL KHAWAGA and LEILET HANA W SOROUR 1 Nomination each
ABOUT THE ACA: please visit www.ac-awards.com
Official YouTube channel: Arabian Cinema Awards