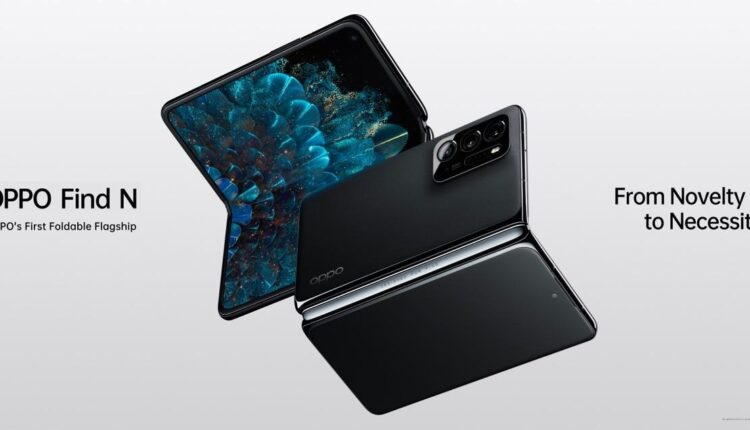 OPPO Unveils Groundbreaking Technologies and New Brand Proposition of "Inspiration Ahead" at INNO DAY 2021
OPPO Unveils its First 6nm Cutting-edge Imaging NPU, OPPO Air Glasses, and its first foldable flagship smartphone, OPPO Find N.
OPPO unveils its first foldable flagship smartphone, OPPO Find N.
OPPO, the world's leading smart technology brand, held its annual technology event, OPPO INNO DAY 2021, in Shenzhen, China, and online in its virtual OPPO INNO WORLD. Themed 'Reimaging the Future', the event included a news-filled keynote speech by OPPO Founder and CEO Tony Chen, announcing OPPO's new brand proposition 'Inspiration Ahead'. During the first day of the event, OPPO introduced its first Cutting-edge Imaging NPU, MariSilicon X, and the revolutionary OPPO Air Glass. As well as its first foldable smartphone, OPPO Find N, on the second day of INNO DAY.
OPPO Sets Eyes on the Future with New "Inspiration Ahead" Brand Proposition
During his opening keynote speech, Tony Chen reaffirmed OPPO's commitment to developing innovations that revolve around user experience while announcing the company's new brand proposition, "Inspiration Ahead", which takes optimism and Inspiration against the challenges and uncertainties everyone is facing.
"We are living in an unprecedented age, and as a global technology company, we at OPPO feel it is both our duty and our privilege to try and make the world a better place through our technologies, products, and action," said Tony Chen. "Although the journey towards each technological breakthrough is full of challenges, we aim to continue as we have started, step by step, to reach 'Inspiration Ahead' as we have set out in our new brand proposition."
OPPO's First 6nm Cutting-edge Imaging NPU
During the event, OPPO unveiled its first Cutting-edge Imaging NPU — MariSilicon X. As a dedicated imaging NPU, MariSilicon X marks a new era in computational photography. Built on 6nm process technology, MariSilicon X features an advanced NPU, ISP, and Multi-tier Memory Architecture that delivers incredible image processing power with ultra-high-power efficiency. MariSilicon X enables 4K AI Night Video to be captured in the RAW domain using complete image data for the first time on Android smartphones. The Cutting-edge Imaging NPU will make its debut on the Find X Series in Q1 2022, making it one of the most advanced commercialized imaging NPU on a smartphone yet.
The Revolutionary OPPO Air Glass
OPPO INNO DAY 2021 also saw the official announcement of OPPO Air Glass. The groundbreaking aR (assisted Reality) device features a revolutionary monocle waveguide design inspired by the wings of the cicada, giving it its lightweight and minimalist appearance. It provides practical functions such as navigation, health data monitoring, teleprompter, and live speech-to-text translation without the burden of a large and heavy device. OPPO Air Glass is equipped with a self-developed compact projection system — the Spark Micro Projector — and a bespoke optical diffraction waveguide, delivering a vivid and sharp aR display in all types of environments. The device can be operated using OPPO smartphones and smartwatches. It also supports different intuitive interactions such as touch, voice, and motion controls, enabling users to obtain the information quickly and conveniently.
First Foldable Flagship Smartphone: OPPO Find N
A result of four years of research and development and six generations of prototypes, the OPPO Find N brings together cutting-edge technology and unprecedented quality to create an improved foldable experience. For the first time in a foldable smartphone, the OPPO Find N uses a landscape ratio for the inner display, striking a better balance for users to seamlessly switch between an immersive 7.1-inch inner display and a 5.49-inch outer display that offers a full smartphone experience with no compromise on size or usability.
The Flexion Hinge on the OPPO Find N brings together 136 components with extreme precision of up to 0.01 mm, ensuring the hinge works as smoothly as the joints in the human body. OPPO's unique water-drop hinge design solves some of the biggest pain points in foldable devices by widening the angle of the fold in the display and offering a buffer when the display folds, resulting in a minimal crease that is up to 80% less noticeable compared with other devices, according to TUV.  The cam and spring structure inside the advanced Flexion Hinge allows the device to freely stand when unfolded at any angle between 50-120 degrees. Together with a range of software features that take advantage of the folding display, FlexForm Mode on the OPPO Find N gives users the flexibility to adapt the device to a wide range of usage scenarios. For example, in the Notes app, the OPPO Find N can convert into a mini laptop allowing you to take notes without needing to hold the device.
A great software experience on a foldable device makes the most of the new form factor and gives users a fresh smartphone experience. To make full use of the larger tablet-like experience when unfolded, the OPPO Find N includes new gestures to make side-by-side multitasking more intuitive. When using a compatible app, simply use two fingers to swipe down in the middle of the device to split the screen in half, or turn a full-screen window into a floating window by pinching it with four fingers. The OPPO Find N also supports traditional split-screen gestures, such as long pressing and dragging compatible icons, while allowing you to save commonly used multi-app split-screen combinations to the home screen.
The OPPO Find N comes with the Qualcomm® Snapdragon™ 888 Mobile Platform, together with up to 12 GB of LPDDR5 RAM and 512 GB of UFS 3.1 storage. A large 4,500 mAh battery offers all-day battery life, while 33W SUPERVOOC Flash Charge is optimized to charge to 55% in 30 minutes and to 100% in 70 minutes. It also comes with 15W AIRVOOC wireless charging (compatible with standard Qi) and 10W reverse wireless charging. The OPPO Find N includes a side-mounted fingerprint scanner that is housed in the power button, as well as a dual speaker system and Dolby Atmos support to deliver more lifelike sound.
Innovative technologies and unique designs are OPPO's core competency. As it strives to create products that enable users to enjoy the 'beauty of technology' by packing the powerful technology into beautiful designs, allowing the state-of-art innovation to flow seamlessly into the customers' lives.