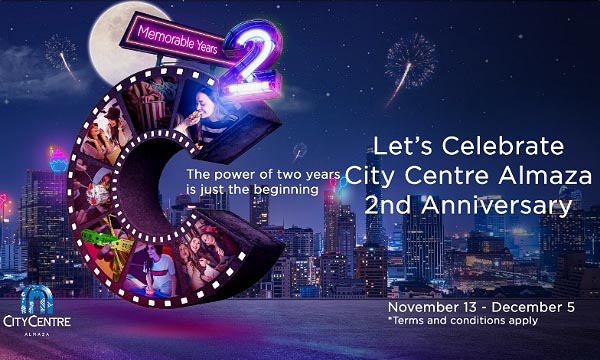 City Centre Almaza celebrates two years since its opening by hosting an event featuring a performance by an Arab superstar
The mall's anniversary celebrations include a high-end fashion event featuring a performance by a popular Arab superstar
Celebrations showcasing the "power of two" kick-started on November 13 and will continue until December 5 
Cairo, Egypt, 23 November 2021: Majid Al Futtaim, the leading shopping mall, communities, retail and leisure pioneer across the Middle East, Africa and Asia, celebrates two years since the opening of its second flagship mall City Centre Almaza, by hosting a mega event featuring a high-end fashion show and a performance by a regional superstar. The event is set to take place on December 3.
City Centre Almaza is also hosting a number of engaging activities on-ground showcasing the "power of two" in celebration of the anniversary, providing its customers with many surprises and unforgettable experiences. The activities are open to the public until December 5, where two lucky visitors will each get the chance to win two carat diamonds.
Commenting on the anniversary, Khaled Shaker, West Region Head of Marketing & Customer Experience, Shopping Malls at Majid Al Futtaim – Properties, stated: "We are extremely thrilled to be celebrating two years since we opened the doors to City Centre Almaza by hosting an event of this magnitude. In the last couple of years, we managed to welcome over 20 million visitors, continuing to motivate us to find innovative ways to create great moments for our customers."
Rasha Azab, Acting Managing Director of West Region Shopping Malls at Majid Al Futtaim – Properties added: "Looking back at the last two years, we're extremely proud of what we have managed to achieve so far. With 239 stores, 90 of which are fashion offerings – we are committed to bringing exclusive shopping experiences to our customers, positioning City Centre Almaza as the go-to fashion destination in the country. We look forward to achieving bigger and better results for our customers, employees and the surrounding community for many years to come."
The fashion show and performance is an invitation only event. For more information, please visit www.citycentrealmaza.com.