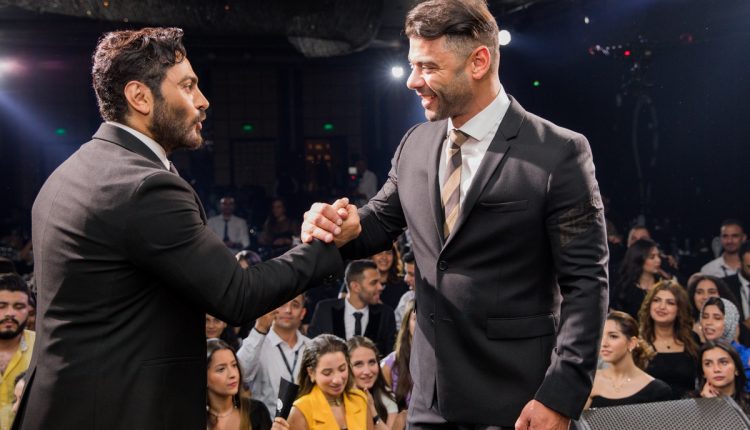 With Pictures – Tamer Hosney Performs at a launching event in Tagamoa
Tamer Hosney Performs at a launching event in the presence of Menna Arafa and Diana Hisham
The super Star performed a concert at one of the luxurious hotels at the 5th settlement – on Saturday for RUSHBRUSH New Products Launch.
Tamer started his performance with his latest song of the Movie "Bahebak" which was – Hatdalaani- then he sang – Helw El Makan _ after that he sang – Olti Kalam , Kol Mara , Eish Beshoak – Helm El Seneen- Ergaali- Kefaya Aazar- and also –Enaya Bethebak Accompanied by his band of 13 musicians.
Also Tamer Sang – Bent El Aih, Aktar Haga-, Ana Wala Aref, Telephoni Ran, Arab Habibi, Yana Ya Mafeesh , Remex House , Leh Tala ,Habetha Ya Nas , & Khadna Manaa .
A number of artists and influencers, including Menna Arafa, Diana Hisham, Ali Ghazlan and his wife, attended RUSHBRUSH's celebration of the launch of 25 new products in the Egyptian market that offer the Top Notch technology in the field of hair care.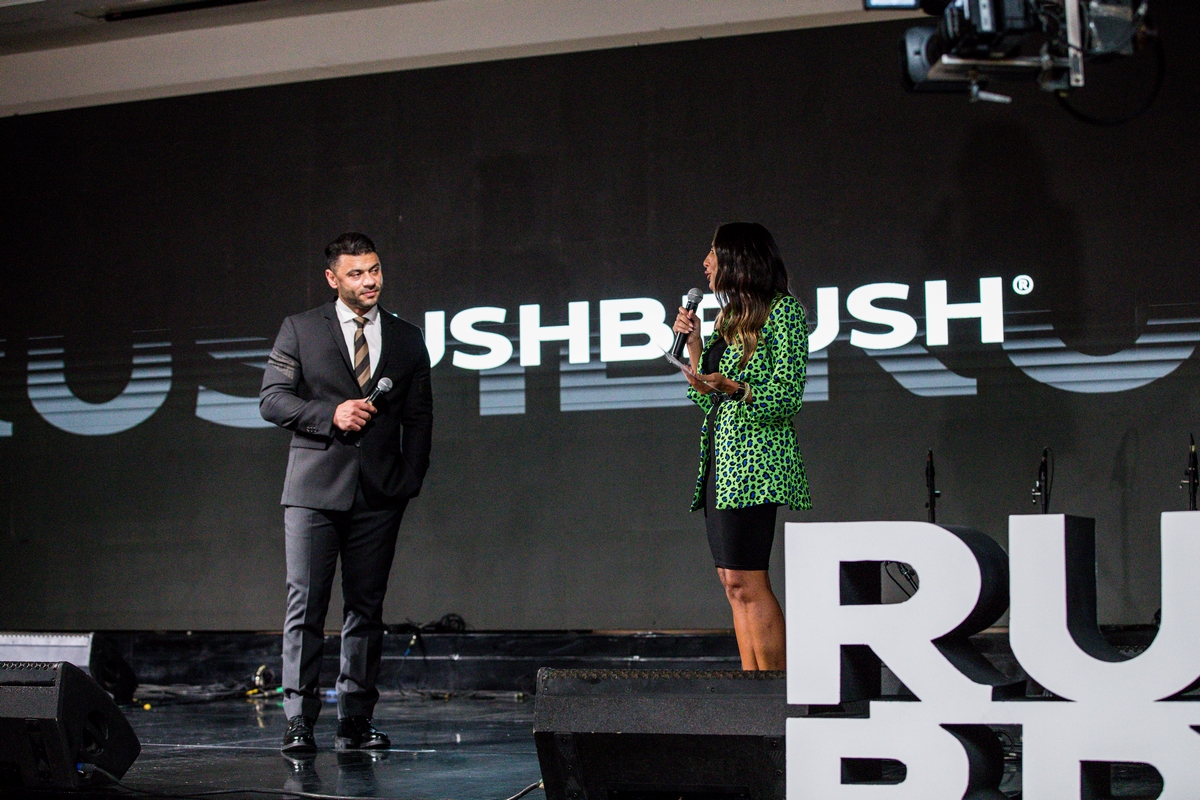 Engineer Ahmed Helmy, Chairman of the Board of Directors of "RUSHBRUSH", said that the company seeks to diversify its products in the Egyptian market to meet all the needs of the market, pointing out that the great development in the field of e-commerce in Egyptian Market was a major supporter of the Exposure of the company, that started to sell its products online which resulted in a huge sales growth of 300%.
Helmy also clarified that RUSHBRUSH is one of the brands that is owned by Stylish EVE, an electronic magazine for women in the world and provides them with ideas and advice on the latest fashion trends, architecture and home decoration, where the magazine's first goal is to make women's life easier and better around the world, Stylish Eve and was able to attract 25 million followers worldwide.
Helmy added that the company was established in Egypt in 2017, and was only selling its products online, and then switched to selling through stores to increase sales in the Delta and Upper Egypt regions, and other similar areas where e-commerce was still not broadly used in order to reach new groups of users.
In another context, Tamer Hosni achieved extensive success at his new movie "Bahebak", which is considered his first time in directing and writing, and the film is co-starring with Tamer a large number of young stars, and they are Hana Al Zahid, Hoda Al-Mufti, Hamdi Al-Mirghani, Medhat Tikha, Shahd Al-Shater, and Alia Rashid.
"Bahebak" movie story revolves around a romantic comedy about a young man named "Ali", who was Tamer Hosni, who has many romantic relationships, falls in a love story with two girls, "Habiba" Hana Zahid and "Yasmine" Hoda Al-Mufti. The events include a number of romantic and a comedy scene that makes him confused to choose one of the two girls, the movie is full of many comedy and romantic scenes between Tamer Hosni and both Hana Al Zahid and Hoda Al-Mufti.