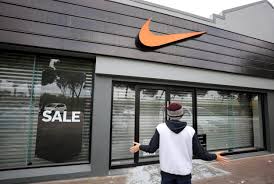 Some Nike stores were closed in South Africa
Source: (Reuters) – Some Nike (NKE.N) stores were closed in South Africa on Wednesday after public outcry over a racist comment by a man that local media said had links to the sportswear company.
Nike declined to comment on the store closures, but issued a statement reiterating its "long-standing commitment to diversity, inclusion and respect", adding that the man seen in a video posted online was not a company employee.
In the video, taken at a beach resort, a white man with a South African accent says: "And not one kaffir in sight. F**** heaven on earth."
The "K word" as it is known in South Africa is apartheid-era slang for a black person and is regarded as a deeply offensive slur on a par with the "N word" in America.
Times Live online news service said the man in the video was married to a merchandising director at Nike. A Nike spokeswoman in London declined to comment and Reuters was unable to independently verify the person's identity.