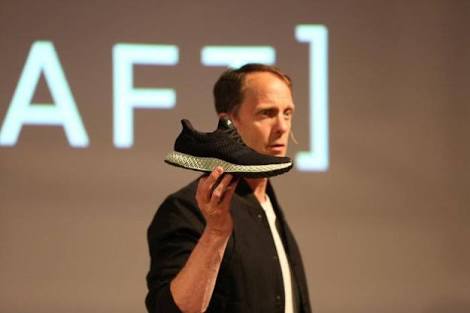 Adidas to produce large quantities of 3D-printed shoe with Silicon Valley start-up
Adidas to produce large quantities of 3D-printed shoe with Silicon Valley start-up
Adidas launched a new sneaker on Friday with a 3D-printed sole that it plans to produce large quantities from next year.
What is Adidas doing now is part of changing fashions and create more customized products.
Adidas allowed people to customize the color and pattern of shoes ordered online but the new 3D printing methods will make small production runs, limited edition shoes and even soles designed to fit an individual's weight and rapid economical.
Adidas says, it's new partnership with Silicon Valley start-up Carbon allows it to overcome many of those difficulties to produce a sole that can rival one made by an injection mould, and at a speed and price for mass production.
"This is a milestone not only for us as a company but also for the industry", said Gerd Manz, Adidas head of technology innovation, announcing the launch of its new "future craft 4D" shoe. " we have cracked some of the boundaries. "